In 2020, when Covid prevented people to celebrate Christmas the way they used to, I shared patterns to act out the nativity story as a shadow puppet performance at home, in the classroom, or online. Churches, teachers, and families in nine different countries used the patterns to act out the story, and shared footage of their performances. I posted a compilation of the films on Epiphany, 2021, which you can find below.
Compilation of the nativity story  (read about the project here)
My daughter and I are still planning to publish the patterns in a story-and-craft book, with instructions how to use the patterns in different ways. But because it er been a while, and I get many questions about it, I am posting a few patterns between now and Christmas that will enable you to have a small nativity display with Joseph, Mary, and Jesus in a manger.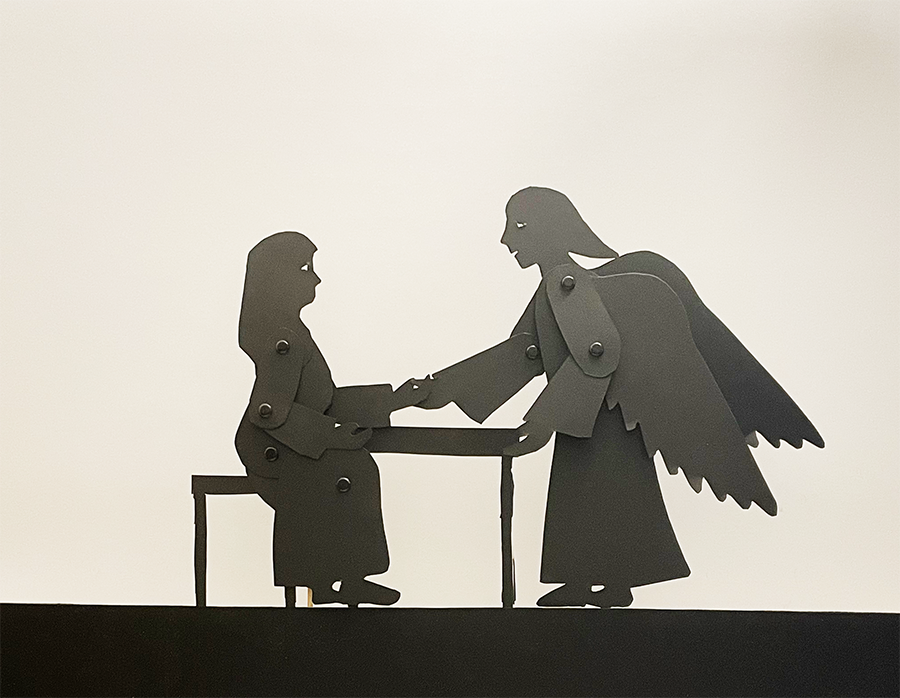 Mary and the angel Gabriel on a stand of corrugated board.
Today you will find the patterns of Mary and the angel Gabriel, who comes to announce that she will have a baby. In our previous blog post you can see an example of  a stand to display puppets upright, made of corrugated (card)board.
The pattern of Mary includes an optional "bump," which allows children to see her pregnant when traveling to Bethlehem. It can be attached at the pivoting point between her hips and skirt. In the next blog post I will share a small stop motion film, in which you can see her and Joseph celebrating her pregnancy with a growing belly.
Happy advent!