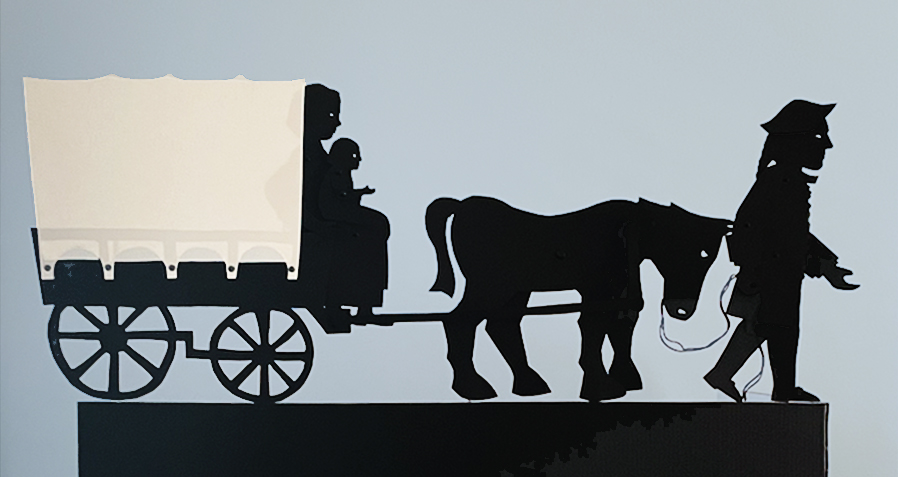 There are 22 places in the United States that are called Lawrence. But only one of them got that name because the original one, Maidenhead, was thought to be too embarrassing for ladies. On the occasion of the  township's 325th anniversary, I decided to read up about its local history to create historical tableaus for a local art and craft fair.
Henry Mershon family, ca. 1700
I wanted my first tableau to be about the early settlement of Maidenhead, which was founded in 1697. I chose Henry Mershon (1672 – 1738), a weaver and bee keeper, who settled there around 1700 with his wife Anne and two year old son. Henry was born a Huguenot in France but emigrated as a 13-year old to Long Island, New York, to flee religious persecution. His father Henry Marchand had left him with friends in 1685 and returned to France to get the rest of the family. He never returned, however, forcing young Henry to start a life of his own. Henry and Anne left a long line of descendants, and I used an early photo and painting of two of them to create the profiles of Henry and Anne.
James Lawrence, 1813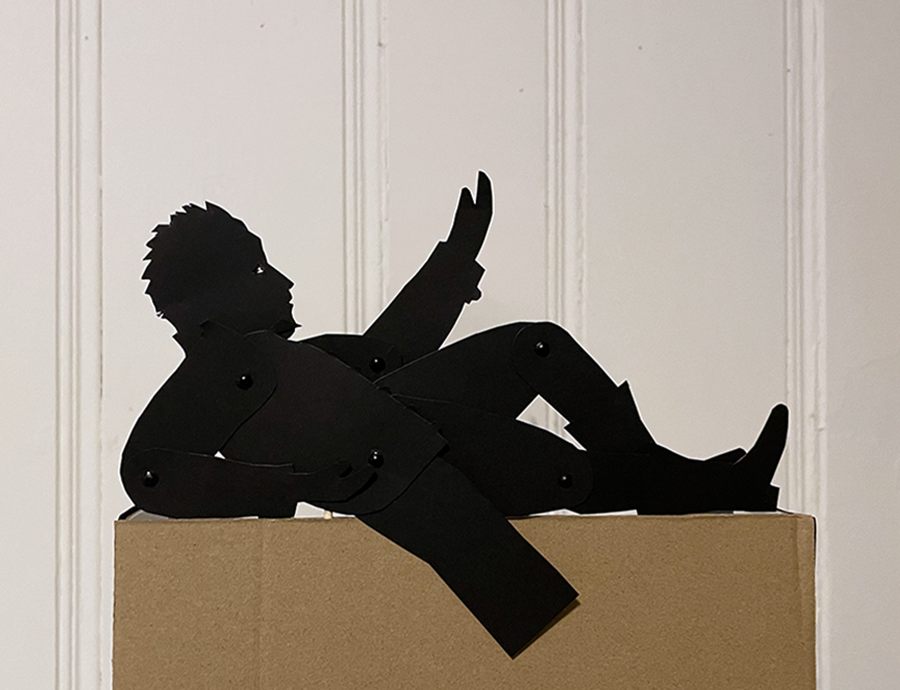 It was the pastor of the Presbyterian Church and founder of the Maidenhead Academy (now the Lawrenceville School) who rallied support for a petition to change the name Maidenhead, so as not to "offend the delicacy of modesty" among young women. In 1816 the New Jersey legislature approved the name Lawrence instead, to honor Captain James Lawrence, a naval hero from Burlington, New Jersey. Lawrence had lost his life a few years earlier in the War of 1812 against the British and had become famous for his dying words "don't give up the ship," which became a US Navy rallying cry. For the puppet's profile I used a naval medal that displays the same unruly hair that is shown on other depictions of James Lawrence.
Denby-DeKnight family, 1865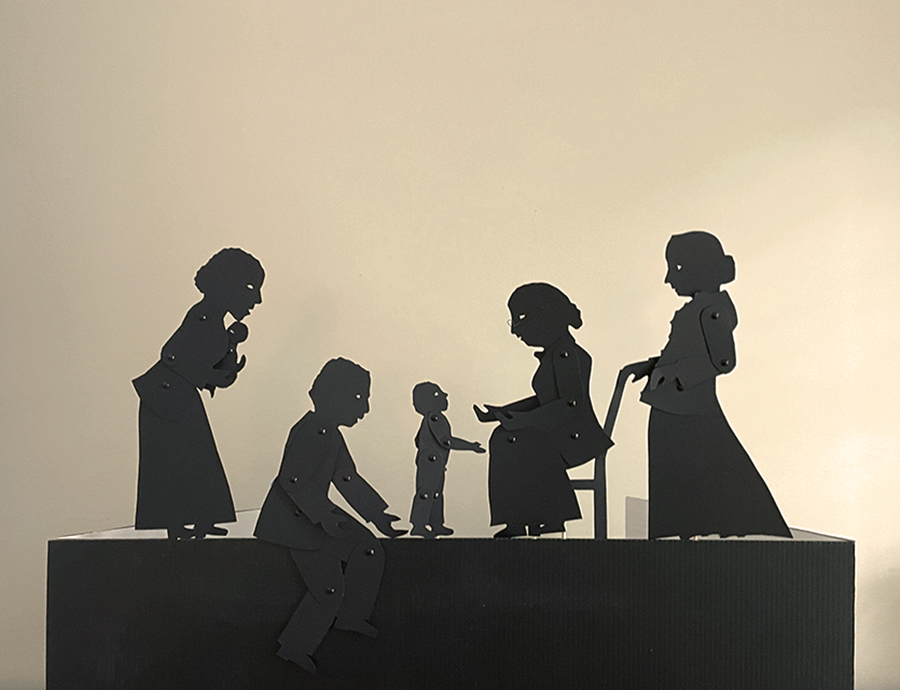 Puppets of the Denby-DeKnight family and the Collin sisters, 1865
Like Henry Mershon and his wife, Anne Denby moved to Lawrence from Long Island, accompanying Edith and Rachel Collins, who had inherited a farm in Lawrenceville from their father. Anne appears first in the 1860 census as a 14-year-old Black servant under the same surname as the sisters. She married John DeKnight, who, according to family stories, had come to the farm when he escaped slavery through the Underground Railroad and stayed to work there. The Collins sisters and the (De)Knight family, which included the two boys in the display, were very close, and Anne ended up owning the farm in 1888. Her cousin Charlotte Denby Bosley and her husband and daughters moved to Lawrence around 1902 to help manage the farm. The family became the center of a small Black community on Lewisville Road. The profile of the puppet of Anne is based on a family photo around 1912 that can be found in the book Lawrence Township by Kathleen Middleton, which also includes a photo of Anne on the front porch of her farm, c. 1898.
To make a tableau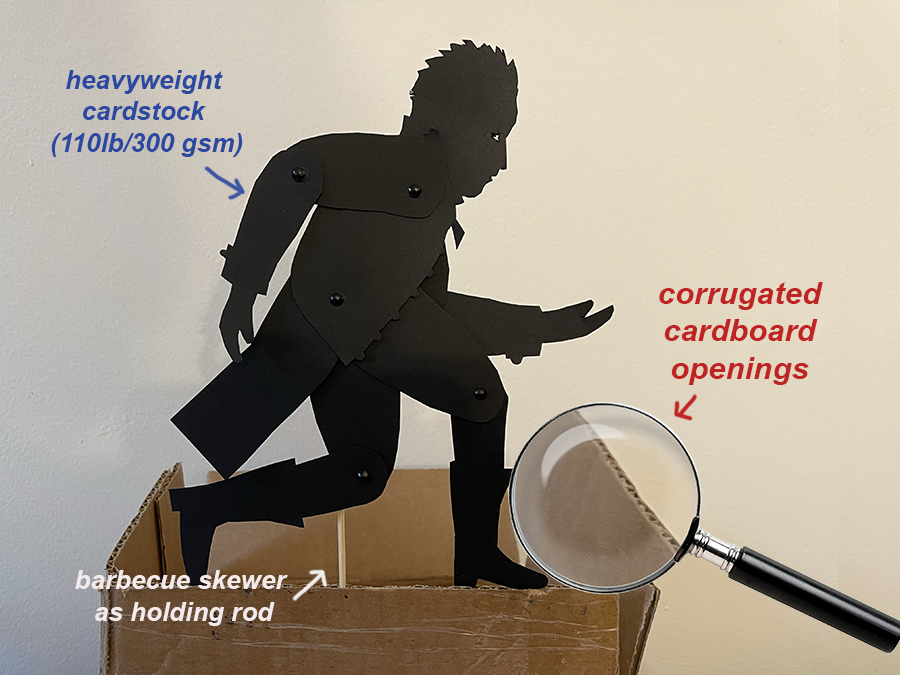 To make a tableau with silhouette puppets it is best to use heavyweight cardstock paper, so that the puppets will stay straight even in humid weather. I have found 110lb/300gsm the best for this (available at Michaels but in big supplies only), but any black poster board will be good. To make a support for the puppets you can use any sturdy corrugated card box you can find. For the ablove tableaus of the  Mershon and Denby-DeKnight families I used parts of a tri-fold presentation board and glued a piece of a black plastic corrugated sheet to the front, which I found in my local craft store. Instructions how to make puppets can be found below.
With thanks to Earl Clare Mershon, Mershon Association, and Laura Nawrocik,  Lawrence Historical Collection, Mercer County Library for their help