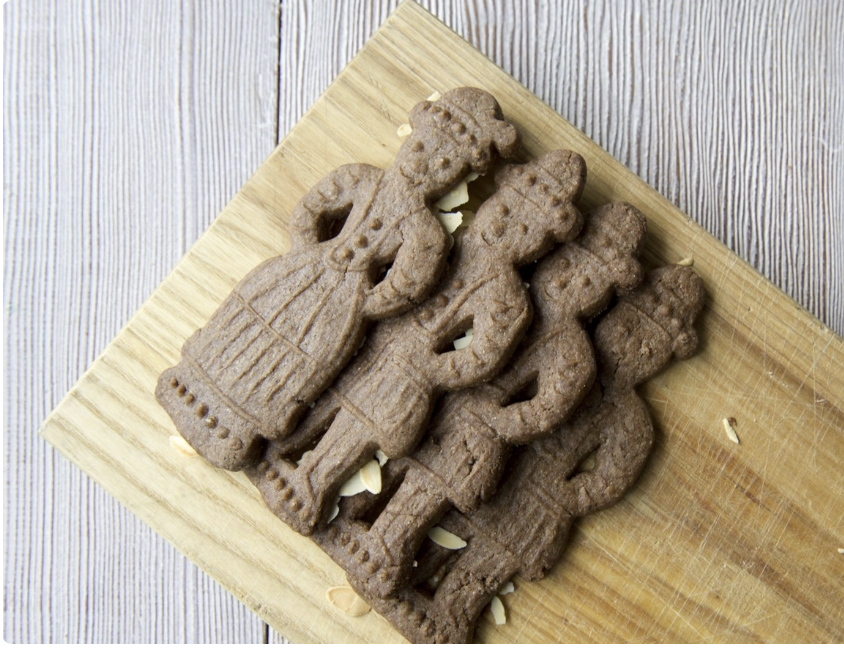 Speculaas and Sinterklaas (Saint Nicholas)
December 5th is one of the most treasured days in the Netherlands, the day that Dutch children get gifts from the red-robed and white-bearded Sinterklaas (Saint Nicholas), who arrives from Spain in the middle of November with his ship full of presents, to be distributed on his birthday. The celebration is associated with traditional candy and cookies such as chocolate letters, pepernoten (spiced nuts) and speculaas. In this blog post I am sharing a recipe for the speculaas that my friend Ingrid used to bake during our local celebration of Sinterklaas with Dutch and Flemish families.
Speculaas or speculoos?
The cookies that can be found in American stores these days under the name speculoos (also 'windmill cookies') look similar to Dutch speculaas. The taste, however, is more bland, because only one ingredient (a cheaper substitute for cinnamon) is used. The real speculaas, however, is made with a mixture of spices, including cinnamon, nutmeg, and clover. Many bakers have their own recipe.
Ingrid used the mold depicting Sinterklaas shown below. There are wooden molds in all shapes and sizes, however, both antique and new, which can be purchased online.  I myself never used a mold, and just made "thick speculaas," which is also sold at every Dutch bakery so it is legit!
Recipe

Ingredients
2 cups flour
1 cup of butter or margarine
½ tsp baking powder
½ tsp salt
½ cup dark brown or Demarara sugar (you may add some more)
3-4 tbsp milk
slivered almonds (optional)
1 ½ tsp 'speculaas spice mix' (see below)
Speculaas spice mix
You can make the mix from the following ingredients (you'll have lots to spare for another batch)
4 tsp cinnamon
2 tsp ground nutmeg
1 tsp ground cloves
pinch of ginger powder
pinch of cardamom powder
Instructions without a mold
Hand knead all ingredients until there is a firm but malleable dough. Pack the dough (in sausage shape) into a piece of foil and keep in the fridge overnight to allow the spices to penetrate the cookie dough.
Cut thin slices and put on greased cookie sheet in preheated oven at 350ºF for 11-12 minutes.
Instructions using a mold
Dust the mold with flour (some use sugar). Press the dough into the hollows, cut off excesses with a knife and sprinkle with slivered almonds.
Shake the figurines out onto a dusted countertop, or use a toothpick to help the shape out of the mold. Put flat, almond-covered side down on a greased cookie sheet and bake in a preheated oven at 180ºC / 350ºF for 15 – 20 minutes, depending on the size of the dolls.
Enjoy!