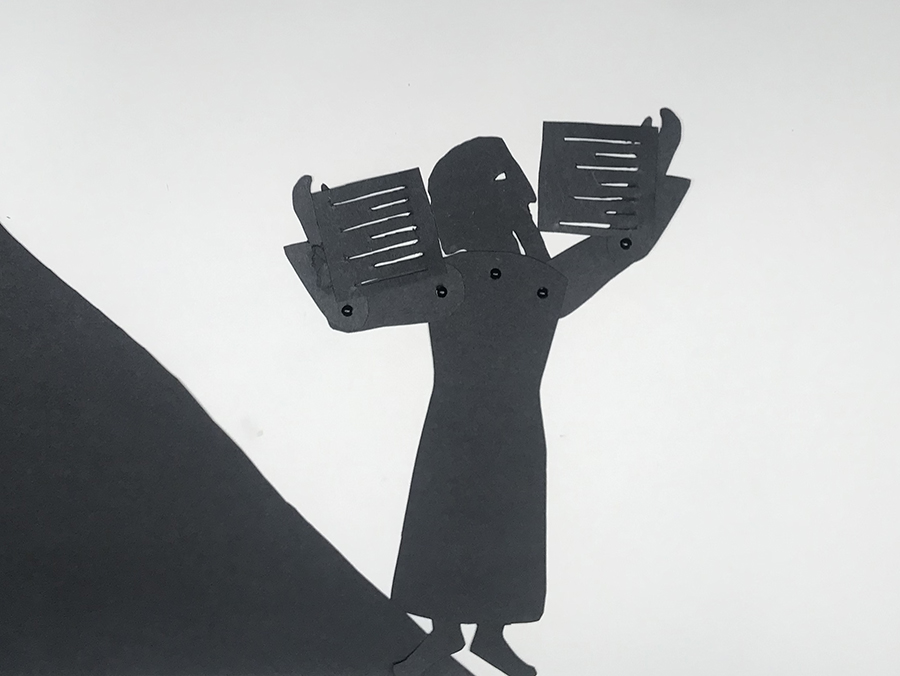 A new set  of mix-and-match puppets in biblical dress is available in the Printable Library. With a choice of different heads, upper, and lower bodies, and optional headdress they will enable you to create characters for many stories in the Hebrew and Christian Bible. Like the Nativity story, which was acted out by churches, schools and families in different countries during the pandemic, the puppets may be used for a shadow puppetry performance. In addition, you can use them without shadow screens for storytelling or stop-motion animation films, making them a fun and versatile educational tool for religious purposes or when teaching world religions.
Making the puppets
When choosing what puppet to make you will need to think of what your character needs to be able to do. Will he or she stand, walk, or bend over only, or will they need to sit or kneel too? If that is the case you will have to choose a pattern for the lower body with two parts, pivoting around the knee. In the instructional video below you will see how I made Moses, choosing body parts and headdress. Although there are many moving parts, this does not mean that you should move them all. Even if you "park" a holding rod underneath a shadow screen or in a corrugated cardboard stand (see below) you can use two moving rods at the most, because you only have two hands. The many parts only allow for better positioning and expression, but they may also accidentally bend the wrong way. If so, use painter's tape (which is removable) to secure the parts in the right position.
Instructional video about how to make a puppet featuring Moses
In traditional shadow puppetry characters are shown sideways, in profile. The Bible stories templates also include a pattern for a front-facing puppet, in which only the head faces sideways.  This pattern is used for Moses coming down the mountain that is shown in the video, carrying the Stone Tablets with the 10 commandment (reading right to left on either square or rounded tablets, since there are different traditions). This pattern may also be used for Jesus preaching in a group, or for the Passion story.
Feel free to adjust any patterns if needed. You can find additional information about making puppets and screens on the Shadow Puppetry page.
Using puppets without a screen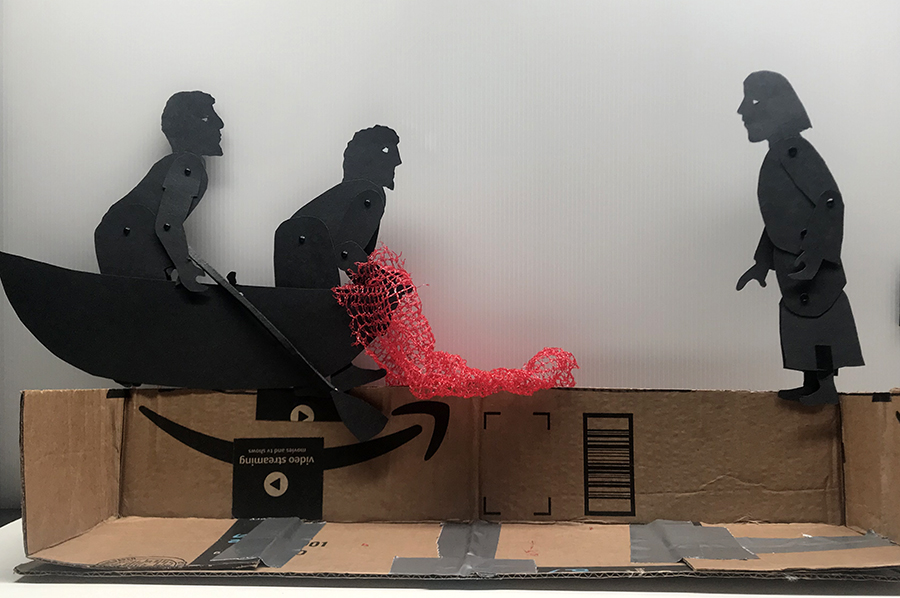 An easy way to use the puppets as a group activity is to let children in a circle act out stories while holding a puppet, either doing role play or following a narrator's prompts. Smaller groups or teams can also act out scenes by using a "stand" made of corrugated cardboard, as shown above. The barbecue skewers that serve as holding rods are pushed into the corrugated openings of the cardboard. Children can sit behind a cardboard stand on a table and handle the moving rods behind it. The one shown above has the measurements for a "zoom stand," but can have any width that is suitable for the purpose.
Stop-motion movies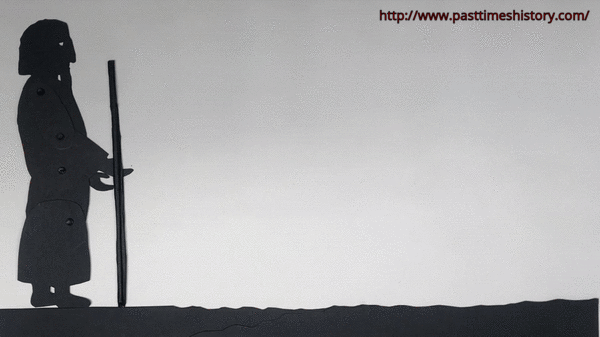 Moses parting the Red Sea (gif of stop-motion footage)
A very exciting way to use the puppets is using a stop-motion app on a phone or tablet. For the clip above I used Stop Motion Studio, available in the Apple store or Google Play. I have an adjustable cell phone tripod stand that allows me to make photographs of puppets that lay flat on a table, which I move about half an inch at the time. If you only have a tripod that faces forward you could try attaching puppets to a big enough piece of paper or foam board against the wall. Removable glue dots will allow you to reposition the parts that you want to move. A camera shutter remote control prevents camera movement, but apparently not all shutterbugs work with the app (I ended up having to buy a new one that does).
Puppet sizes
All patterns in the Printable Library make puppets about 9″-10″ (22-25 cm) tall. For a desktop size shadow screen or cardboard this would allow for four or five puppets at the most. The patterns can be adjusted in size by changing the settings on your printer or by using a photocopier. If you are aiming for a shadow puppetry performance for a larger audience, you should create puppets that are about 150% or more in size, depending on the size of the screen and the audience. If you are aiming for a video instead, there are various ways how to deal with larger groups. In a following blog post we will show how Tore Skytén, minister at the Church of Sweden (who also participated in the Nativity project), used Bible stories puppets to film the Easter story for elementary school children and found ways to deal with larger groups and crowds.