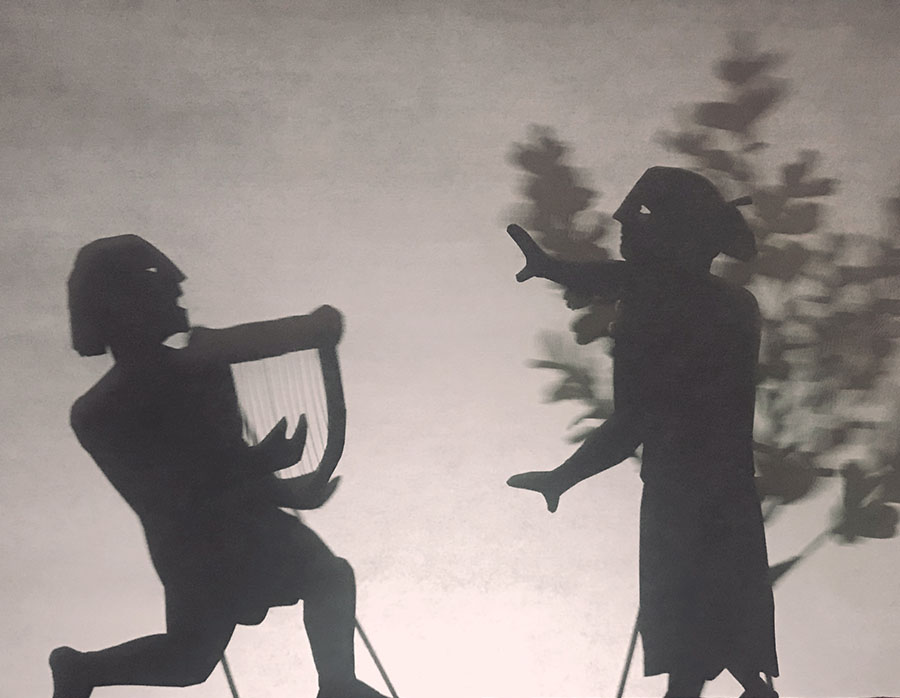 Are you interested in Greek mythology? Are you stuck at home and looking for some different screen time with your own animations? With shadow puppets and a home-made screen you can turn Daphne into a tree, let Pegasus be born from Medusa's neck, and make Hades pull Persephone into the Underworld. You don't even need a screen to use the puppets–you can use them as silhouette puppets behind a sofa, table, or a sheet of cardboard. In this blog post you will find free printables of mythological figures and instructions how to use them for an educational group project, a performance at home or over Zoom, a birthday party, or just for fun.
Inspiration from Greek vases
Unlike other puppets in our Printable Library the puppets of Greek gods, demigods, heroes, and monsters are designed with upper bodies turned sideways, while faces are shown in silhouette. This is inspired by the pots or "vases" that the ancient Greeks used for storage, eating, and drinking, which were elaborately decorated with mythological scenes and figures. Although the earlier pots had black figures painted on terracotta, the puppets are modeled after the later "red figure" style of terracotta figures on a black background, which are more elaborate and natural-looking.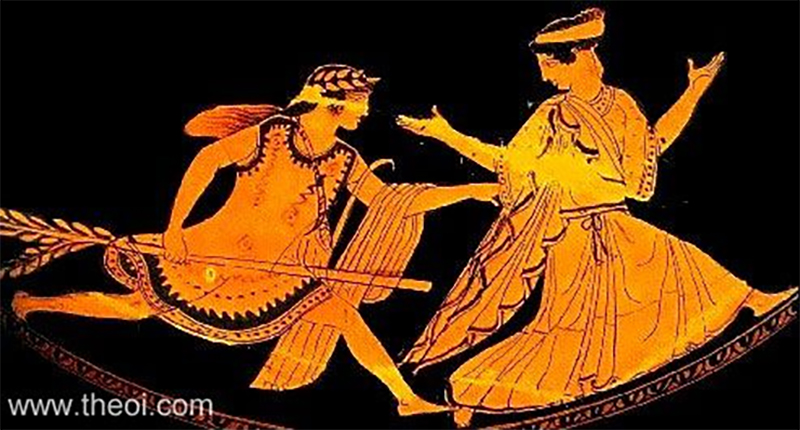 Classroom and home use
My earliest experience with Greek myths and shadow puppets date back to when my son was ten years old and we acted out the story of Pandora's box for the children's curriculum "Why do bad things happen?" in our local church. Aiming at an audience of children and parents, we used an overhead projector, a big shadow screen, and puppets and masks that were made by the children themselves. In a subsequent 4th grade class performance of two Perseus myths in my son's school we built on this format, using two overhead projectors in order to alternate scenes. I shared the techniques and insights that I developed on my personal site, which can now be found on the Past Times site below.
Performance of Pandora's Box by 4th-5th graders
The patterns in the Printable Library are for use at home. Designed to be printed on letter-sized or A4 paper, they make puppets about 10″/25 cm tall. For bigger performances the printables may be enlarged on a photocopier to an A3 or  17″x11″ size, which will create about 15″/37 cm tall puppets. The patterns are meant to be templates. Feel free to adjust them or use them as examples, as there are many more (male and female) gods, demigods, and heroes in Greek mythology than there are patterns.
What you need
To make the puppets you need the following (you can find a list of supplies through Amazon here):
access to a printer to print out templates
black poster board (available in office supplies and craft stores)
black sticky-back velcro
small scissors with sharp points
Scotch tape
barbecue skewers  (10″/25 cm) and a wire cutter or pruning shears to cut them to size
smallest size split pins or metal brads (craft stores, scrapbooking section)
Making and moving the puppets
Video tutorial about how to put Pegasus together and make him fly
Print out the templates for the puppet of your choice in the Printable Library.  (These are links for Pegasus' body and the tail and wings shown in the video tutorial).
Cut out the body parts with a wide margin and stick them to the poster board with a small piece of double sided tape.
Cut out all body parts with small sharp scissors.
Use the pointed part of the scissors to cut out eyes and make holes in the indicated places where pieces will be joined (you can also use a small hole puncher).
Separate the paper patterns from the black poster board or cardboard parts.
Connect the body's parts with small split pins or brads.
Instructions for holding and moving rods can be found here.
Using a pot-shaped screen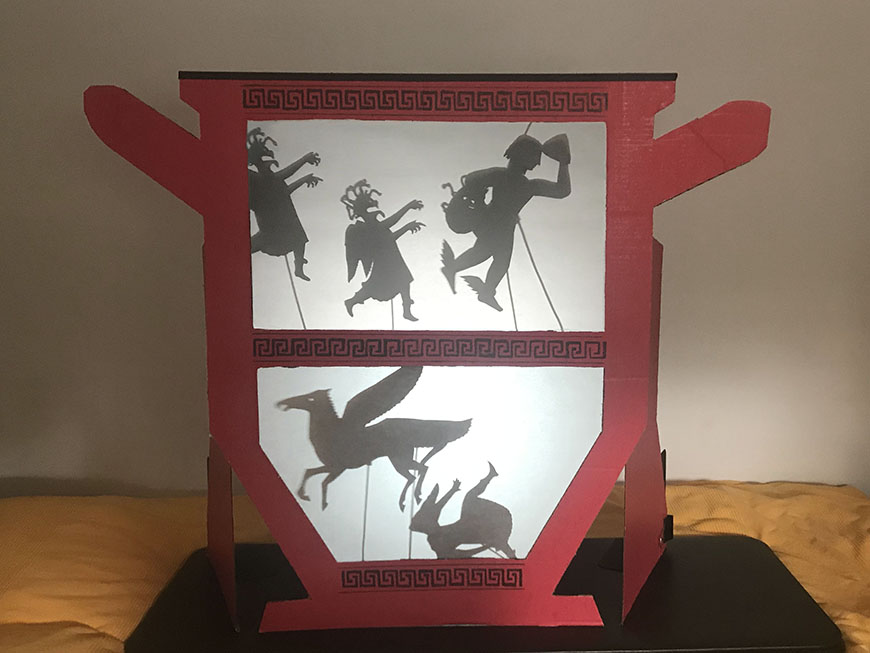 If you want, you can make a shadow screen in the shape of a Greek vase. The two or three layers above each other are great for interaction between the Olympus, the mortal world, and the Underworld. You can also use them to split up a complicated scene, such as the one above, where Pegasus is born from Medusa's neck while Perseus escapes with her head. Underneath each transparent layer on the screen is a strip of rough or bristly velcro to attach the holding rods, which keep a puppet close to the screen. If just like to use just one transparent screen, you can simply make a shadow theater from a box.
No screen: silhouette puppets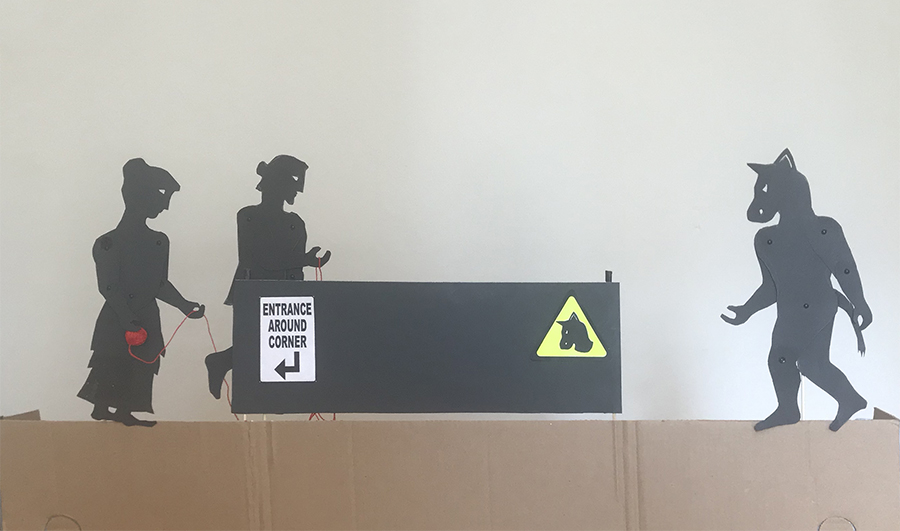 If you choose to use the puppets as silhouette puppets without a screen, you can use them anywhere you want, depending on if you have an audience in the room. One person can only hold and move one puppet at the time. You will have more flexibility if you use a stand made of a cardboard box, and stick the holding rods in an opening of the corrugated carton, as shown in the scene above. The labyrinth is represented by a piece of black poster board with barbecue skewers on each side. You can let Theseus find his way through the labyrinth by making him walk up and down, turning left and right. If you find that  the velcro of Theseus and the Minotaur gets tangled up once they fight, you can use velcro-free rods for the Minotaur with duct tape.
Cardboard stages for Zoom use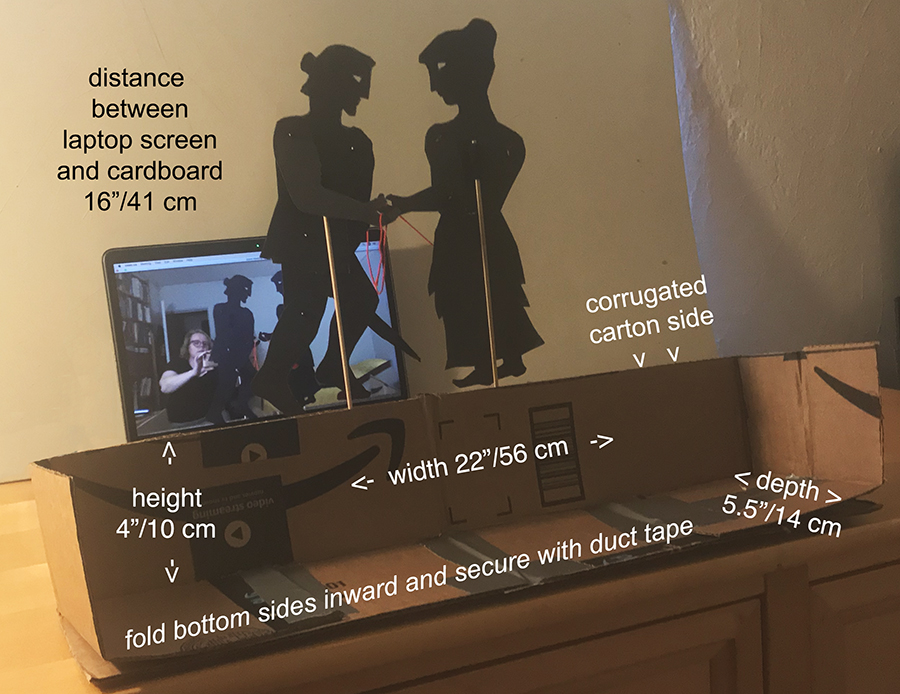 If you would like to act out a myth with friends or classmates over Zoom you can do so by making a 4″/10 cm high stand from a flattened cardboard box (33″/84 cm x 9 1/2″/24 cm). By putting the holding rods in the corrugated side at the top you can handle the moving rods of one or two puppets at the same time, allowing your puppets to interact. If this is a group project make sure that you have a script that allows everyone to have equal parts. By narrating the scene while handling the puppets each puppeteer will automatically be in the middle of the screen when it is his or her turn. It may take a bit of practice, but once you get it right you can record your Zoom session and share your performance!
Telling your story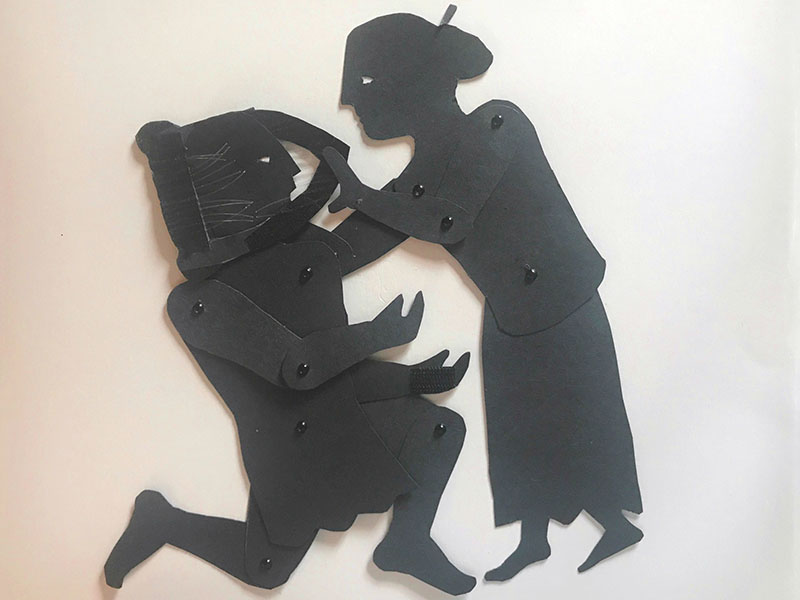 If you study Greek myths, you will find there are many different versions, because the stories were passed on orally, which left room for embellishments and changes. The stories have inspired artists, authors, composers, and playwrights for centuries to create their own interpretations. Just like them, you are free to decide which elements of a myth you want to include, emphasize, adapt, or leave out. You can even change the stories altogether and create new ones. Would you like to have more female heroes? Are you fed up with those entitled gods, who just felt they could grab any nymph or woman they fancied? Go ahead, make this a creative writing project, and change it! Feel free to share your experiences in the comment box below, or on the Past Times Facebook page. Have fun!