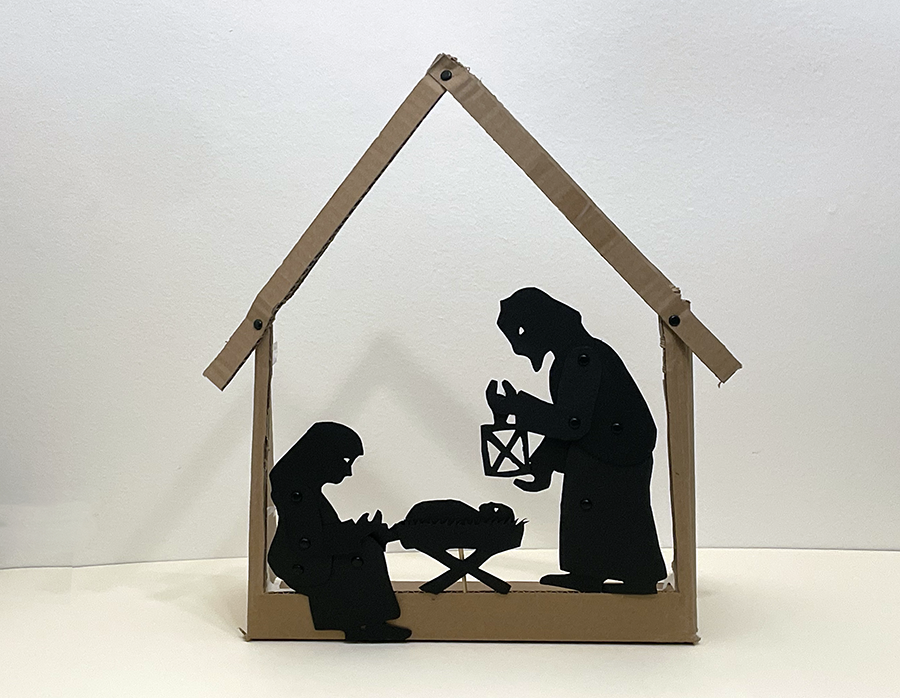 In the weeks leading up to Christmas I have shown how to use corrugated cardboard for a Nativity display stand and stop motion films. In this post I am sharing instructions how to make a creche from a cardboard box.
What you need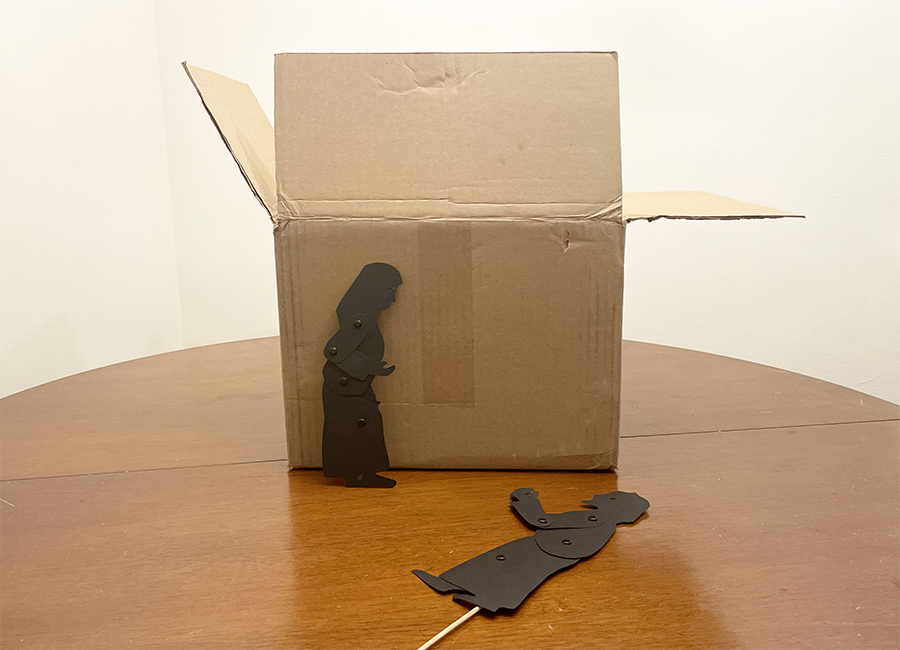 For a creche you can use any cardboard box, as long as the top flap (which will serve as the roof) is higher than the puppets.  Decide if you want to use the longer or shorter side of the box. The two adjoining sides will serve as the supports. You will use the inside of the box, so don't worry about address labels, stickers, or tape.
box cutter or sharp knife
cutting mat and ruler
barbecue skewers
masking or painter's tape
split pins
Cutting the parts

Find the middle of the top flap (C) and the middle of the side panels (D). Draw lines from these points to the two top corners of the box (A and B). Use a box cutter or knife to cut along the lines. The front and sides of the creche have bottom flaps. Take off  the side flaps by cutting lines D-E on both sides.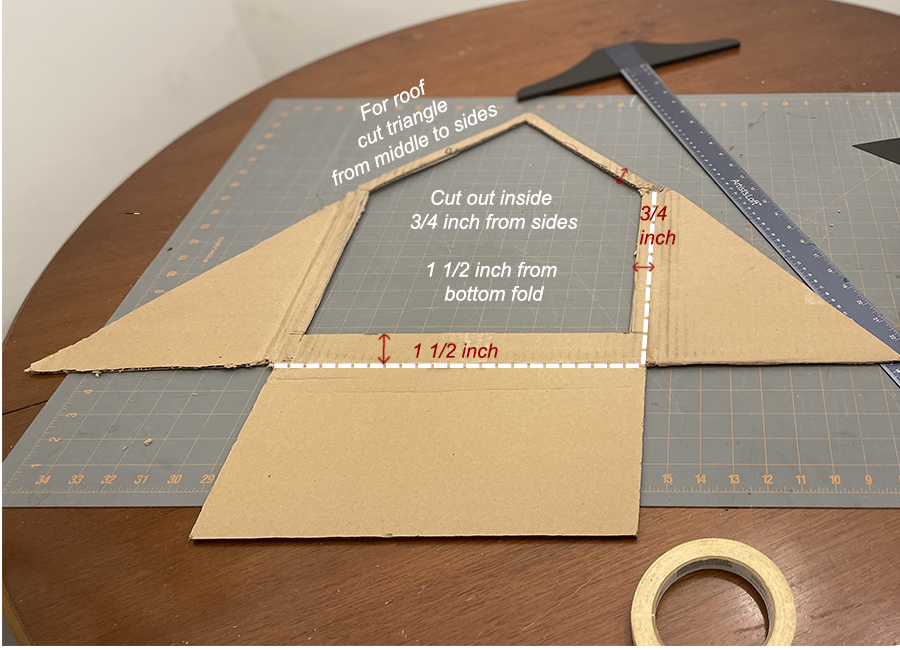 Using a ruler, draw lines to cut out the inside of the creche leaving 1 1/2 inch (4 cm) for the bottom rim and 3/4 inch (2 cm) for the sides and roof. (If your box is big you can make these rims wider.) Cut out the lines with a box cutter or knife. Use the inside to cut two 3/4 inch (2 cm) wide strips along line A-B. You will use these strips to secure the roof, which otherwise would bend at the folding line of the old box.
Connecting the parts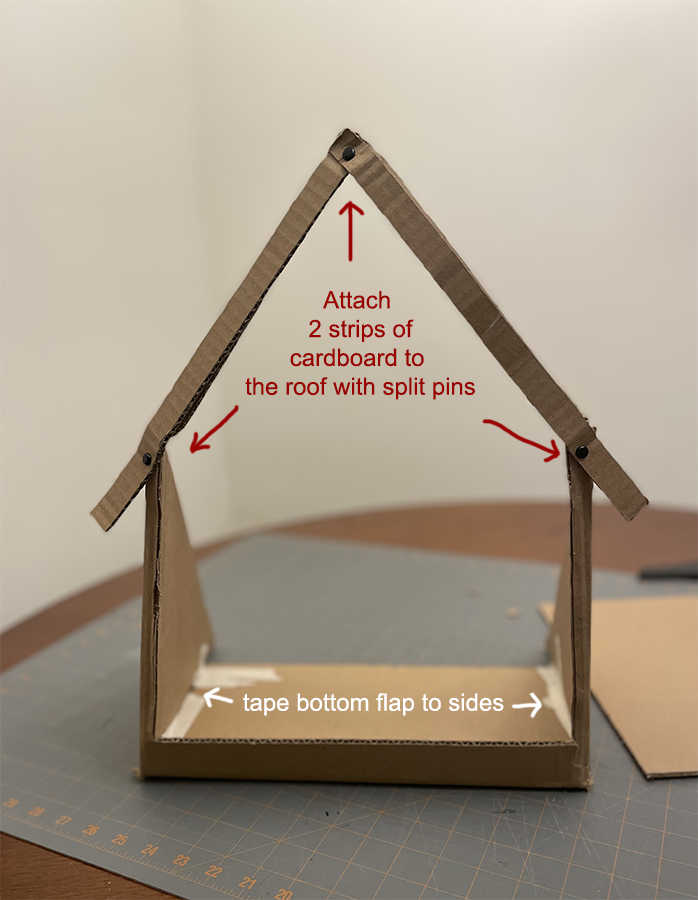 Fold the bottom flap toward the two side panels and tape them together with masking tape. Attach the tips of the two strips of cardboard to the top of the roof with a split pin, using the sharp point of scissors to punch a hole. Use two more split pins to attach the strips to the corners of the roof below the folding line. This will keep the roof upright.
Attaching the puppets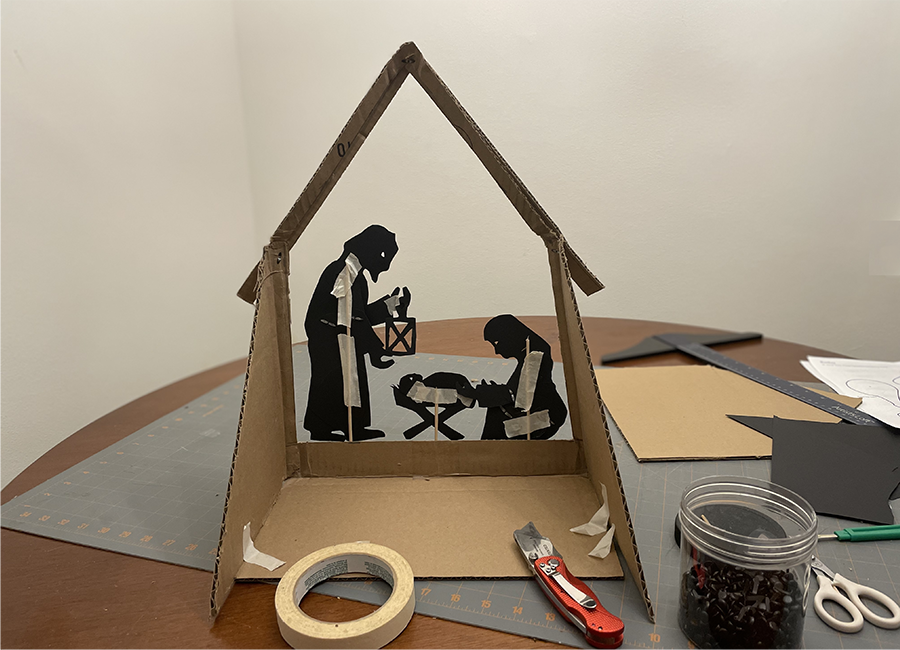 Cut barbecue skewers to size to use as holding rods, pushing them in the openings of the bottom rim. Depending on the size of your creche you can try out different positions. Mary can stand, sit, and kneel at the manger, but also feed the baby. And of course Joseph can hold him too, while Mary takes a nap. Whether you want to play or not, it doesn't matter how you stick the holding rods to the puppets with masking or painter's tape. It comes off easily, and you can reposition or replace it without damaging the paper.
Have fun and Merry Christmas!