Hi all! My name is Sara, and I'm the daughter of Helene, the creator of Past Times. My mom has spent years of her life pouring love and creativity into shadow puppetry, a story-telling medium that's easy, inexpensive, and accessible for everyone. All you need to host a successful shadow puppetry show is a self-made screen, a source of light (a lamp or cell phone work great!) and some DIY puppets — we'll help you with that! Read on to learn how to make a DIY Nativity puppet show.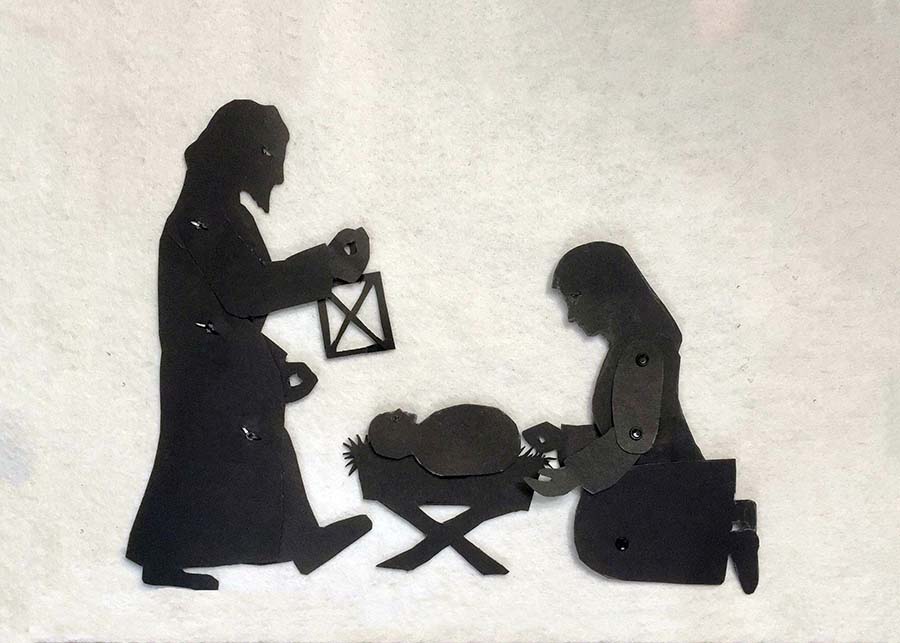 Why We Love Shadow Puppetry for Storytelling
One of the things we love about shadow puppetry for storytelling is that it's fun for kids and inclusive for everyone. If your school, church, or family is having a Nativity play this winter, there doesn't need to be any fighting about who gets to be the angel, or any worries about how to include the littlest children. With shadow puppetry, kids of all ages can take turns holding up their handmade puppets. You also don't need to worry about expensive decorations or costumes — with just a  few inexpensive supplies (see our recommendations here), you can host a rich and vibrant show that's fun for  all ages.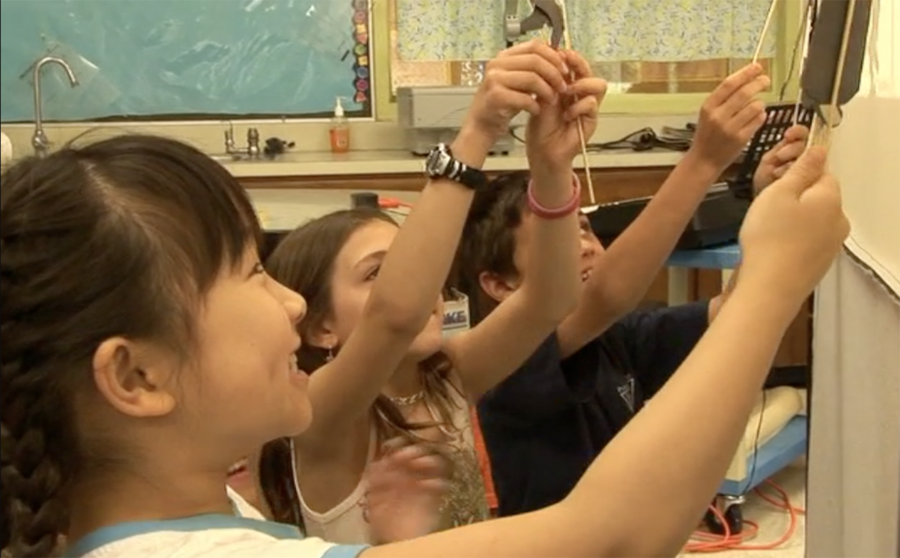 How to Use Shadow Puppetry for Your DIY Nativity Show
If  you're interested in using shadow puppetry to host your own Nativity Show, you only need a few supplies. You can see our full list of recommended supplies for shadow puppetry on the Supply page, but to get started, all you need are:
Shadow Puppet Supplies
Black poster board. I recommend the dimensions 28 x 32″, which is available in single sheets in craft stores. The thickness should ideally be thicker than cardstock.

Thin barbecue skewers (cut off the tips before handing to children).

Black painters tape. You can use normal tape if you are on a budget.
White or light colored pencils for drawing on black poster board. A normal pencil will also be visible to adults in the right light, but children will struggle to see it. Any white or colored pencil will do.
Scissors. Use sharp scissors if you are making them as an adult, and kid-safe rounded scissors if working with kids!

Black round metal brads

Velcro to attach various items to the puppets (Jesus to the manger, for example)
Printables puppet templates
Screen Supplies
Foam board presentation board. I recommend 24 x 36″. Alternative: a big cardboard box
White parchment or cookie paper
A light. You can use a lamp, book light, or even the flashlight feature on a cell phone!
Steps for Setting Up Your DIY Nativity
Create your screen!
Shadow puppetry works by using the dark puppets against  a white screen with a light behind it. The screen is an important part of your show. You can create a screen with poster board, a presentation board, or even a large cardboard box. Instructions on how to make a screen can be found here.
Create your puppets!
Here comes the fun part. You can make your own puppets, or use our templates to make them. We have a variety of DIY Nativity shadow puppets, some of which are available for free in our resource library and some of which you can purchase in the full collection at our shop.
Update November, 2020: Because the patterns will be used for a story-and-craft activity book the puppets are not available in our Printable Library. However, we share them for free with, groups, and families who would like to use them during the pandemic. Find more information here.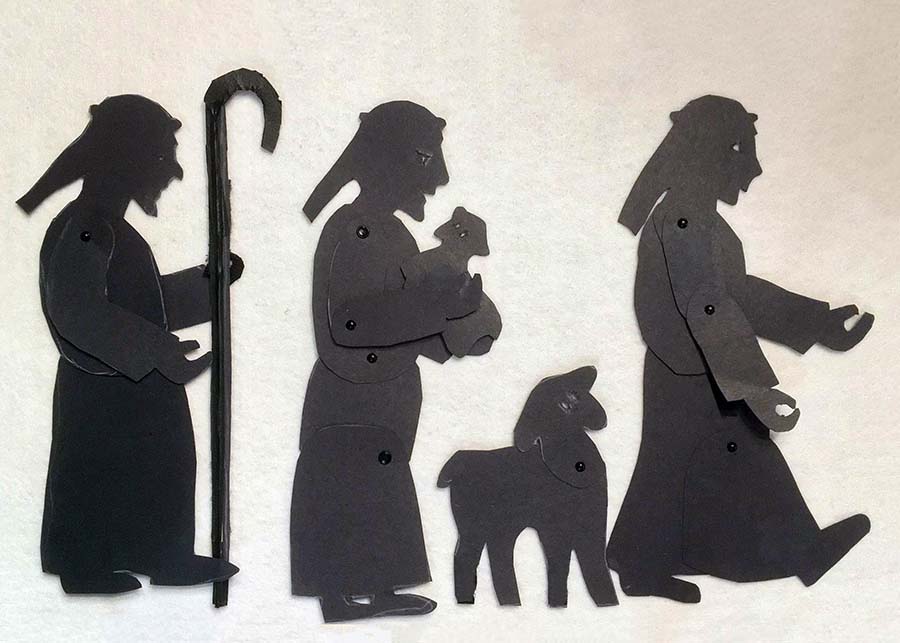 Nativity Scene
Joseph
Mary
Jesus in the crib
Shepherds and sheep
Ox with hay-filled manger
Three Wise Men
Wise Men's camels
Angel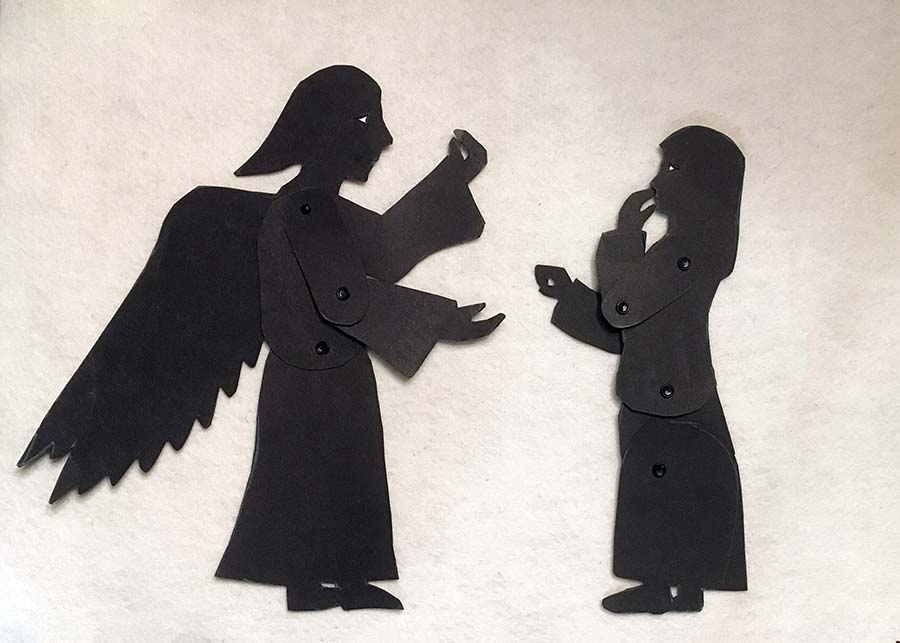 Annunciation
Mary when she finds out she will be pregnant
The angel Gabriel
Trip to Bethlehem
Pregnant Mary with adjustable stomach
Donkey with moving legs
Joseph
Once you have your puppets, whichever you'll be using, cut out the templates with a wide margin. Stick them to the poster board with small pieces of double folded scotch tape, cut out the parts along the lines, and remove the white paper carefully.
Next, punch holes where indicated on the puppet templates, and attach the pieces to each other using the black brads.
Finally, tape on the wooden sticks where indicated on the printables. Your puppets are done!
Put on your show!
Gather the kids (or kids-at-heart!) who will be helping  you put on your show. Put the screen on a table and have kids sit around the table, behind the screen. Turn on your light, book light, or phone flashlight in front of the children pointing to the screen Now you can put on the show! Choose an older child or adult to be the narrator, and have fun. If you're having a hard time imagining, check out this video  of one of our older performances.
It's not much harder than that. If you have any questions about how to put on a shadow puppetry show, please comment below! I'll be more than happy to help.