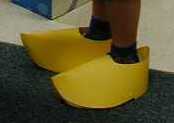 What you need
yellow poster board from your local craft store (for size of an 8 year old at least 24″x 13″ or 65x35cm)
scotch tape
stapler
two pieces of thin elastic
How to make them
Make a pattern on newspaper or sketch paper. Download the pattern of the wooden shoe that is 50% reduced. If you xerox this 200% enlarged on 11″x17″ (A3) paper you get the size for shoe size 5 (US), 4 1/2 (UK), 37 1/2 (Eur.) or 320 (JP). Adapt it for other sizes (try it out on sketch paper or newspaper first.)
Trace the pattern onto the yellow poster board. Cut out twice for both feet.
Staple both short ends together for the part behind the heels.
For the pointed end at the toes, do not fold the whole shoe, just the tip. Attach with scotch tape as shown.
Make little holes on either side of the shoes, and pull a piece of elastic band through each (make a little knot at each end or use scotch tape).
How to put them on
Put the cardboard shoes on first, pulling them up a bit before putting on your shoes or sneakers. Now push them down and cover your shoes. The elastic band should be pulled under your heels.