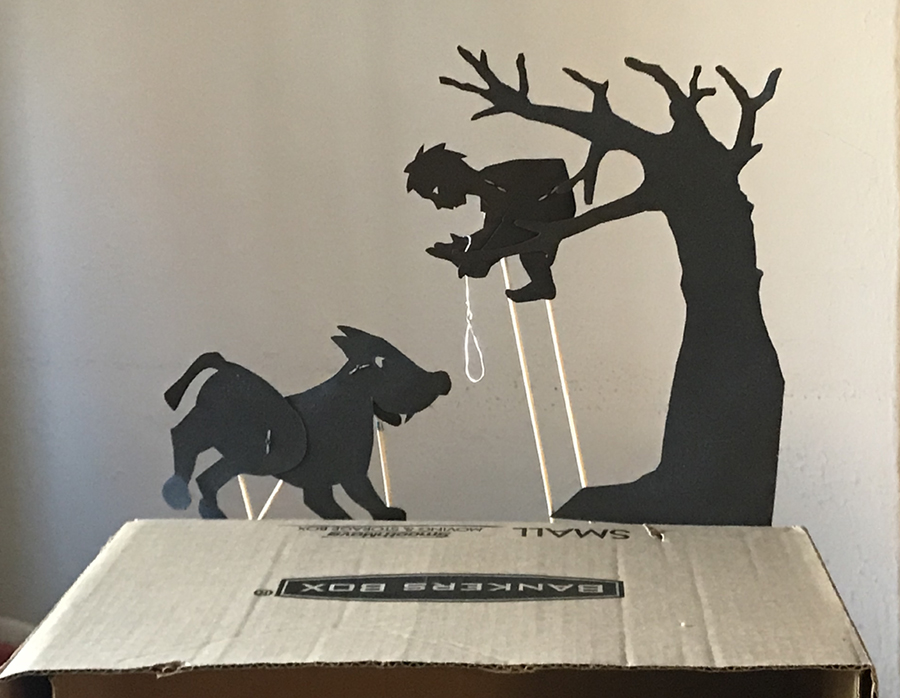 Are you and your children stuck at home and looking for a creative project? With so many families staying indoors under self-isolation, I know many parents are looking for fun and educational activities to keep kids busy and entertained. At-home puppet shows are a great way for kids to craft, play, and put on their own family performances. In this post, I share free printable puppets and a tutorial for how to make a shadow puppet show of Prokofiev's classic musical fairytale Peter and the Wolf. You can use this story to teach your children about different instruments (as it was originally designed), teach them about fables and storytelling, or just for fun. If you enjoy it, I hope you'll take a look at the rest of my library of printables and resources on this site.
Sergei Prokofiev and Walt Disney
The Russian composer Sergei Prokofiev composed Peter and the Wolf in 1936 to introduce children to the musical instruments in an orchestra. The American premiere took place in March 1938, with Prokofiev  conducting the Boston Symphony Orchestra himself. When touring the West, the composer met Walt Disney in Los Angeles, who decided to turn this symphonic children's story into a movie. Due to the second World War, the film only came out in 1946. In this historical introduction to the film, Walt Disney shares footage of Prokofiev playing the musical themes for him on the piano.
Walt Disney about the his meeting with Prokofiev
Jörg Müller's picture book illustrations
My favorite picture book of the story, retold by Loriot and illustrated  by Jörg Müller, was first published in German in 1985 and in English in 1986. The book, which combines pictures of the story as well as the musicians,  instruments, and conductor, has been beautifully animated in the video rendition below, which includes credits to the performers and the picture book.
Film with Jörg Müller's picture book illustrations
The film provides a great introduction to the music, as well as the instruments that Prokofiev used to illustrate the story, so there is no need to visit a library before starting your project. You can use the music and narration to act out the story or look for alternative versions on YouTube (you can google it in many languages).
The story as a shadow play
Peter and Wolf has been performed or adapted in many different formats. In the beautiful French shadow play below by Le Theatre des Ombre you can see both the front and back of the screen, showing how to puppeteers handle the holding and moving rods.
French shadow play by Le Theatre des Ombres
In this blog post I will show you how you and your kids may act out the story as a shadow play yourselves if you have enough supplies at home. But you can also use the silhouette puppets by themselves above a box or table, or without using any surface at all, just holding the sticks and moving them along with the music.
What you need
Minimal access to supplies:
access to a printer to print out templates
thin cardboard for support of the puppets (card stock, cereal box, thick envelope etc.)
scissors and tape (any)
barbecue skewers or straws
(optional) cardboard box (minimal 14″x17″)
Access to craft store,  office supply or online store:
small split pins or metal brads (craft store, scrapbooking section)
duct tape or painters tape
piece of 14″x17″ (356×432 mm) transparent paper (tracing paper, cookie paper, vellum)
View an extensive list including Amazon links
Making the puppets
If you have access to black poster board paper you can print out the templates for the story in the Printable Library. If not, you can print out the same templates (but then in black) using the links below, Attach them to card stock or thin cardboard and cut them out. If the cardboard is too thick for precise cutting, just cut out a piece that covers the main part of the body for support (view the cutout of the grandpa in figure 3 for an example).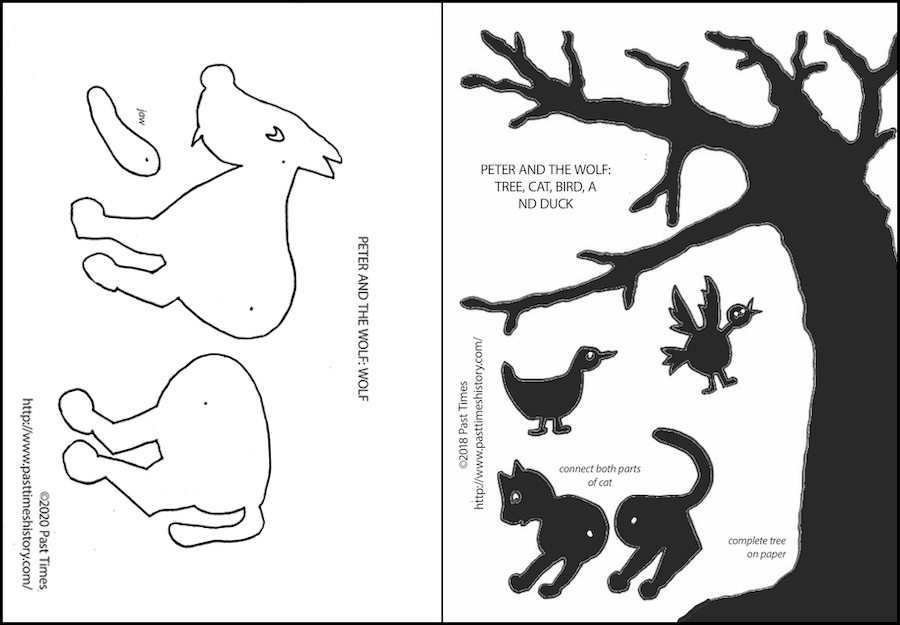 Cut out the body parts with a wide margin and stick them to the poster board or thin cardboard with a small piece of double sided tape or a double folded piece of scotch tape.
Cut out all body parts with small sharp scissors. (If you use black printouts and thicker cardboard you may just use a piece of cardboard for support, see the grandpa in figure 3).
Use the pointed part of the scissors to cut out eyes and to make holes in all indicated places where pieces will be joined.
Separate the paper patterns from the black poster board or cardboard parts.
Connect the body's parts with small split pins or paper brads. If you don't have split pins or brads, just tape the parts together and use the puppets as stick figures without moving parts.
Moving and holding rods
An easy and cheap alternative to the velcro-tipped rods that I used in the past are rods made with masking tape or wide (1″) painters tape. For an instructional video visit How to make puppet rods with duct or painters tape.
Cut a piece of about  1″ x 1/2″ (25 mm x 13 mm) of duct tape or painters tape and roll half of the rectangle over the sharpest tip of a barbecue skewer or thin straw. Twist the remaining flexible part and let it stick out.
Cut a small square or round piece if tape, make a little hole in it, and stick the flexible tip of your rod through the non-sticky side and bend it sideways to attach to the sticky part.
Stick the piece of tape on the part of the puppet that you want to hold or move.
Keep the rod in an angle when holding and moving the puppet against your screen or in the air.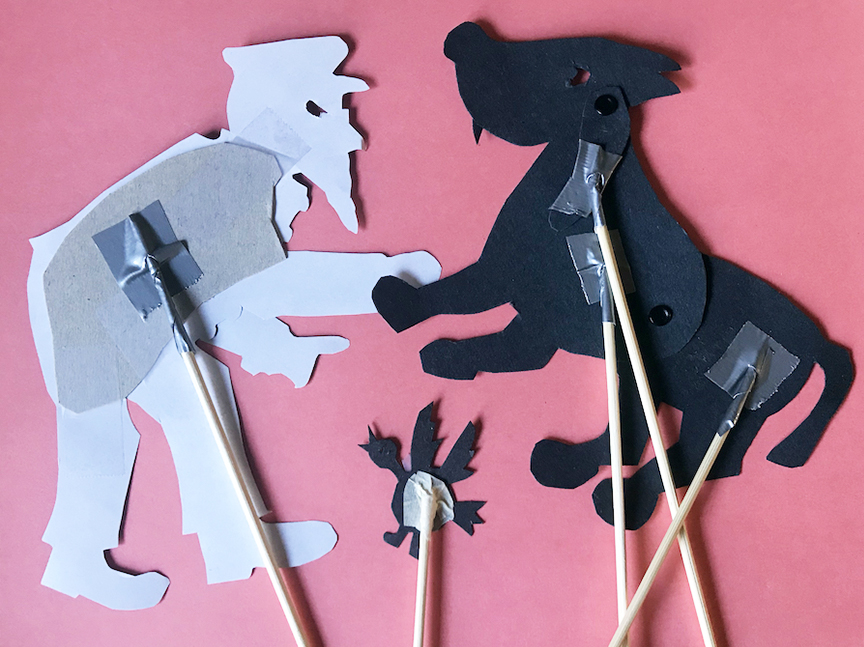 Figure 3. Cutouts of grandpa (printout with black front), wolf, and bird (black poster board) 
For instructions about holding and moving rods go to holding and  moving the puppets (this site still shows velcro-tipped rods).
Theater, light and screen
To make a shadow screen with tracing paper, cookie sheets, or vellum and a box follow the instructions here:
If you only have a box but no translucent material, you can just make a frame, or turn the box sideways and stick the holding rods in the opening fold as shown in the figure 1.
Taking it further
There are many sites that have additional information and lesson plans about Peter and the Wolf. Here are a few:
If you want to use your wolf for other fairy tales, check out my site about Wolf Stories, which links to more free printables in the Printable Library.